The Benefits of Commercial Dumpster Gates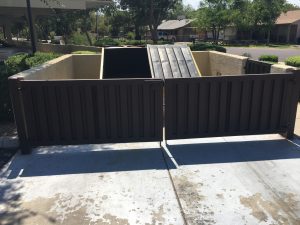 Many commercial properties rely on dumpsters for collecting trash and recyclables, and while they are essential parts of any business, they can also detract from the appearance of your property. An effective solution for businesses looking to discreetly and safely secure dumpster areas are commercial dumpster gates. These gates can help prevent animals and other unwanted visitors from accessing the dumpster area, as well as reduce the risk of damage due to vandalism or elemental wear and tear.
At DCS Industries, we specialize in providing property owners with expertly designed gate and fencing solutions. We manufacture our dumpster gates from premium-grade wrought iron backed by an industry-leading warranty to ensure it can stand up to daily use year after year. While the look and appearance of dumpster areas are often not the first thing property owners look towards when upgrading the curb appeal of their business, an unsightly dumpster area can quickly deter potential customers and can even pose a safety risk. We include high-quality latching mechanisms with any gates we install, ensuring the dumpster area is easily accessible when needed but protected from inclement weather and unauthorized access. We also offer commercial property owners the ability to customize the gates we design, ensuring the unique needs and style of your business are accounted for. 
At DCS Industries, we offer expert installation and locally crafted gates, fences and security doors made from industry-leading materials. Since 2003, our mission has been to provide Valley customers with the highest level of customer satisfaction.
Contact us today for a free estimate on all your gate and fencing needs!