The Security Benefits of Wrought Iron Rolling Gates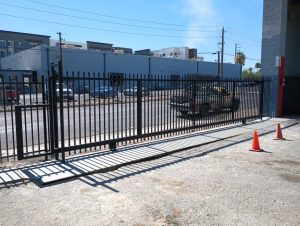 For commercial property owners, durable fencing options can help ensure that employees, clients and anyone who frequents your business can safely enter and exit the premises. Wrought iron is one of the most durable fencing materials, able to withstand inclement weather while also being difficult to damage or breach. For properties that require convenient access for authorized vehicles—while also keeping unauthorized ones out—a rolling security gate is a great option.
At DCS Industries, we recently installed a 30-foot-long wrought iron rolling gate for a commercial property in Phoenix that was looking to enhance its security. The wrought iron pickets of this fence are stamped to form a spike at the top, which creates a formidable barrier against anyone trying to climb the fence. This additional layer of security is particularly important for businesses located in areas of the city that are experiencing an increase in the number of trespassers entering their properties or loitering outside due to the surging homeless population.
While wrought iron is already an incredibly durable material, we are pleased to offer the option of galvanization to further extend its lifespan, backed by a 10-year warranty. In addition to keeping wrought iron looking beautiful for years to come, galvanization ensures that your gates and fencing will provide optimum security.
Offering an ideal solution for commercial properties that require fencing that can be easily opened for pedestrians and vehicles (including large trucks) when needed and closed securely when not, wrought iron rolling gates are a valuable asset that can boost safety, security, and style. At DCS Industries, we offer expert installation and locally crafted gates, fences, and other wrought iron products made from industry-leading materials. Since 2003, our mission has been to provide Valley customers with the highest level of customer satisfaction.
Contact us today for a free estimate on all your fencing needs!