Seeking Ways to Protect Your Commercial Property in Phoenix? Consider Wrought Iron Security Fencing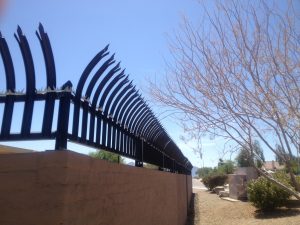 For the owners of commercial and industrial properties, keeping their buildings, assets, employees, and customers safe is a constant concern. Among the many potential threats, businesses in Phoenix—as with most other major cities— have become concerned with the growing homeless population in recent years, often finding individuals loitering outside (or even on) their properties. One of the most effective ways to keep unauthorized visitors off the premises and enhance safety for customers and employees is to install wrought iron security fencing.
Compared to other types of fencing materials, one of the key advantages of wrought iron is that it is highly durable, making it difficult to damage or breach. At DCS Industries, we offer several options to further enhance the security of our wrought iron fences. For example:
We can stamp the wrought iron pickets in order to form a spike at the top, which gives the fence an intimidating appearance and makes it very difficult to climb. The tops of the pickets may be left straight, or bent to serve as an additional deterrent to would-be trespassers.
We offer the option of galvanization, which refers to the process of sealing the wrought iron with a protective zinc coating to shield against rust and other forms of deterioration. As guaranteed by our 10-year warranty on galvanized products, this will keep the wrought iron in sturdy, breach-resistant condition for years to come.
We also provide wrought iron security gates, which are a convenient way to allow authorized vehicles and individuals on to the property while keeping intruders out.
We can ensure that fences and gates are installed with minimal space at the bottom and between the pickets, creating a virtually impenetrable barrier.
With over 15 years of experience providing security fencing solutions for businesses across the greater Phoenix area, the team at DCS Industries will work with you to create fences and gates that suit your needs, style, and budget. We use only premium-grade steel and the highest quality components in our products, ensuring long-lasting durability. Contact us today at https://dcs-ind.com/free-estimates/ to request a free estimate!