Let Some Fresh Air into Your Home with Decorative Security Doors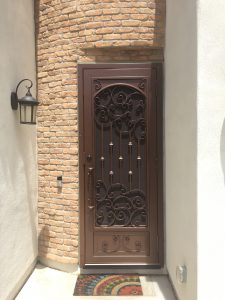 While it may be difficult to imagine a cool breeze during the heat of the summer, Arizona residents are fortunate to enjoy beautiful weather for most of the year. In fact, as soon as the nighttime temperatures start dropping in the fall, many people open their windows to let some fresh air into their homes. One of the best ways to capture a cross-breeze—while ensuring that kids and pets stay safely inside and intruders are kept out—is to install a decorative security door.
At DCS Industries, we design, manufacture, and install premium-quality wrought iron security doors customized to suit a range of styles. Here are the key benefits our doors can bring to your home:
Security. As with all our wrought iron products, our doors are made using highly durable, 16-gauge steel and the highest quality components. This helps ensure that they will serve as an effective barrier against potential intruders—including insects and other pesky critters! We also offer a variety of deadbolt and lever options to suit different security preferences.
Style. One of the best things about our decorative security doors is that they are sure to enhance your home's curb appeal. Available in a wide array of styles ranging from sleek and contemporary to elegant and ornate to distinctively Southwestern, we can create a beautiful door customized to reflect your unique style.
Long-lasting durability. Since we are committed to using premium-quality materials in manufacturing our doors and other wrought iron products, you can rest assured that your investment will deliver value for years to come. We also offer the option of galvanization for added durability. This process seals the wrought iron with a protective zinc coating to safeguard against rust; our galvanized products carry a 10-year warranty!
With fall on the horizon, now is a great time to consider installing a decorative security door that will allow you to enjoy refreshing breezes and enhanced style and safety for years to come. Contact us today at 623-825-7700 to request a free estimate!