Factors to Consider When Choosing a Fence Contractor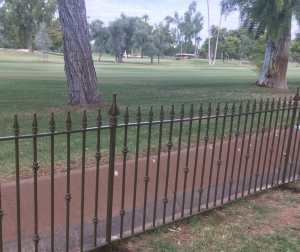 As with any other home improvement, replacing or adding new fences or gates to your property is a significant investment, and it's crucial to work with a qualified contractor to ensure that the project is completed to your satisfaction. But with a plethora of companies in the Phoenix area advertising their fence installation services, it can be difficult to find the best option. Here are a few important factors to consider when choosing a fence contractor:
Experience. As a general principle, companies that have been in business for several years tend to be more skilled and reputable than their newer competitors. Experienced companies are better equipped to handle any challenges the job may present—such as those related to site conditions or HOA restrictions—and ensure that each customer's unique needs are met. At DCS Industries, we are proud to boast over 15 years of experience designing, manufacturing, and installing premium-quality wrought iron fences and gates throughout the greater Phoenix area.
Licensure. For fencing and any other construction-related projects, one of the most important qualifications a company should have is licensure through the Arizona Registrar of Contractors (ROC). This state-run entity ensures that businesses and individuals holding themselves out as contractors meet the standards necessary to perform quality work.
Reviews. Another way to find reputable fence contractors in your area is to check customer reviews on sites like Yelp or Google, or even better, ask trusted friends and neighbors for referrals.
Website. Often, you can tell a lot about a business by checking out their website and social media presence. Reputable companies will usually maintain their sites and social media pages with detailed descriptions of their services, photos of their work, excerpts from customer reviews/testimonials, and other information to help guide your decision of whether or not to hire them. Be sure to also check for basic information, such as a local address.
Communication. When you get in touch with a company to inquire about their work, they should be open and eager to answer any questions you may have and should be willing to provide a written quote upon request. If the company is not forthcoming with information or you otherwise feel wary based on your communications, it may be a good indication that they are not the most reputable.
At DCS Industries, we pride ourselves on the reputation we have cultivated based on our many years of providing quality work for commercial and residential properties throughout the Phoenix area. For more information or to request a free estimate, call us at 623-825-7700!