4 Ways to Ensure a Long Lifespan for Your Wrought Iron Fixtures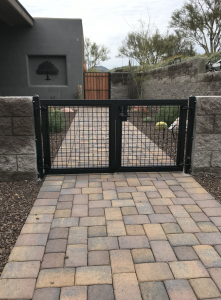 From fences to gates to ornamental fixtures, wrought iron brings an elegant flair to any property. As an additional benefit, wrought iron is naturally durable—when properly manufactured and maintained, it can last for many years without needing to be repaired or replaced. If you have wrought iron fixtures on your property or you're thinking about installing them, here are four steps you can take in order to maximize their lifespan:
Have the wrought iron galvanized. Galvanization refers to the process of sealing the wrought iron with a protective zinc coating to safeguard against rust. At DCS Industries, all of our wrought iron products carry the option of galvanization, which comes with a ten-year warranty.
Opt for electrostatic powder coating. Another way to keep your wrought iron looking great for years to come is to have it finished with electrostatic powder coating. This process is more durable than conventional paints, resulting in a smooth, even finish that can withstand even the harshest conditions without chipping, cracking, fading, or peeling.
Clean carefully. Whether indoors or out, your wrought iron fixtures will need to be cleaned periodically. For example, dirt and other materials that accumulate could carry moisture, thereby putting your wrought iron at risk of rusting. To prevent this, remove debris from the wrought iron using a vacuum with a brush attachment or a gentle brush, and then clean it with a mixture of water and mild dish soap before rinsing with clean water. Be careful to avoid using harsh chemicals or abrasive cleaning supplies.
Inspect your wrought iron regularly and make any repairs needed. Like any other fixture, your wrought iron may require maintenance from time to time. Since rust spreads quickly, it's important to keep an eye out for any rusty patches and have them repaired as soon as possible.
In addition to these four tips, one of the best ways to ensure that your wrought iron fixtures will last for years to come is to choose quality products to begin with. At DCS Industries, all of our wrought iron is made from premium-grade, 16-gauge steel, which is cut to size and welded using pre-fabricated jigs to ensure quality. The experienced team at our Phoenix facility designs and manufactures our products to suit the custom needs of each of our clients. Call us today at 623-825-7700 to request a free estimate!