DCS Industries Receives Glowing Review from Customer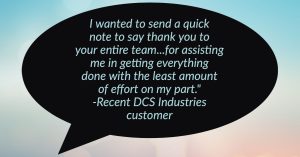 At DCS Industries, delivering a five-star experience for each of our customers is a core part of our mission. Recently, we were excited to receive a stellar customer review that gave special attention to individual members of our team.
The initial comment from the customer said:
"I wanted to send a quick note to say thank you to your entire team. As a single parent of two tiny humans, it is challenging to get small tasks accomplished. Fencing projects, even small ones, are much more difficult.  Your team assisted me in getting everything done with the least amount of effort on my part. I want to share my experience with the following team members specifically."
The call-outs then highlight key members of the DCS Industries staff and acknowledge their special role in making this project a seamless experience.
First up, the customer mentioned Jonathan, one of our sales representatives:
"He provided knowledgeable guidance in planning, selection, and pricing options for my new fence. (Plus, he answered my questions twice with patience and care.)"
Next up, Maradith, a scheduling representative:
"She provided exceptional customer service from my initial call, all the way to the final installation. She is a shining star! She helped get my project scheduled, followed up patiently to every call I made and re-adjusted timelines and tasks to fit my ever-changing needs."
Last but not least, the customer recognized our fence installers:
"This team verified the placement of my fence before starting to ensure no mistakes were made. They were polite, patient and cleaned up after themselves (something that isn't super ordinary in the business) and they completed a quality installation on time."
As a company that takes great pride in our services and products, we're thrilled when our customers take note and share their unique experiences with their friends, family, and neighbors. To learn more about what we offer or request a quote for your project, contact us today at 623-825-7700!