How Custom Gates Enhance Security and Curb Appeal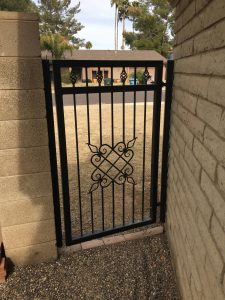 A custom gate can serve a multitude of purposes for homes and businesses alike. At DCS Industries, we specialize in designing, manufacturing, and installing custom wrought iron gates in a variety of styles and sizes for both residential and commercial properties throughout the greater Phoenix area.
Adding a custom gate to your property offers many benefits, including the following:
Enhanced safety and security
Made from premium-grade steel and the highest quality components, a custom wrought iron gate from DCS Industries will create a physical barrier (in conjunction with a fence) that can help keep children and pets safely within the confines of your property—while also keeping unwanted visitors out. If you are looking to enhance the security of your business or home environment, our custom wrought iron gates will reliably provide structural integrity, functionality, and safety.
Greater curb appeal
No matter where it is placed on your property, the right gate can provide a beautiful focal point. To ensure that your new addition enhances your property's style, we offer a vast array of custom gate and fencing options that range from sleek and contemporary to elegant and ornate, and everything in between. For instance, gates in our Phoenix series are known for their quality woodwork using unfinished redwood, composite wood or cedar in tandem with a wrought iron frame. Another customer favorite is our Elite series, a special seamless and gap-free woodwork gate that delivers maximum privacy.We also offer more ornamental designs like our Mesa series gates, which feature a stunning wooden arch, and our Deco series, distinguished by a gentle arch and wrought iron scroll shapes that provide visual intrigue.
Regardless of the style you choose, a custom wrought iron gate from DCS Industries is sure to add beauty to your property while enhancing safety and security. Contact us today to request a free estimate on the right gate to suit your needs!