How to Tell If It's Time to Repair or Replace Your Wrought Iron Fixtures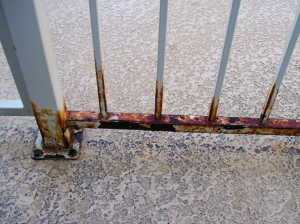 From fences and gates to railings and decorative accents, wrought iron fixtures can add an elegant flair to any property. And while wrought iron is highly durable and tends to remain in beautiful condition for many years, it may eventually begin to show signs of wear and tear. When this occurs, you may wonder if your wrought iron fixtures need to be repaired or even replaced. Here are a few signs that indicate that it's time to give your wrought iron an upgrade:
The wrought iron is rusting. Rust begins to develop naturally over time as the wrought iron is exposed to moisture, plant growth, and other elements. As long as the rust has not begun to compromise the structural integrity of the fixture, it can likely be given new life by simply being repaired and repainted. However, if the rust has been accumulating for several years without being attended to, it may begin to cause structural damage. At this point, you may need to consider replacing the fixture.
Fence pickets are loose, bent, or detached. If there is a wrought iron fence surrounding your residential or commercial property, one of its most important functions is to enhance security by keeping intruders from entering. If the pickets become damaged, unwanted visitors—of both the human and animal kind—may be able to breach the fence and come onto your property. When this occurs, you'll want to have the pickets in question or whole sections of the fence replaced.
Gates are not closing or latching properly. Wrought iron gates also improve safety and security by keeping intruders out and kids and pets safely within the confines of your property. However, the hinges and latching mechanisms can become worn down over time, preventing the gate from fully closing. Fortunately, replacing these elements is usually an easy fix—but one that should be dealt with as soon as you notice the problem.
The wrought iron is discolored or the paint is chipping. As your wrought iron fixtures are exposed to rain, the strong Arizona sun, and other elements over time, the paint may begin to chip, peel, or become discolored. While this usually doesn't indicate structural deterioration, it can cause your wrought iron to become an eyesore—which means that it's time to consult a professional to have it repaired or repainted!
If you notice any of these signs or other indications that your wrought iron is in need of some care, DCS Industries is here to help. With over 13 years of experience designing, manufacturing, and installing a variety of wrought iron fixtures for residential and commercial properties throughout the Phoenix area, we have the expertise needed to determine whether it would be best to replace, repair, and/or repaint your wrought iron. In addition to creating custom fences, gates, and other items, we can bring worn down wrought iron back to life with electrostatic painting, which ensures a smooth, long-lasting finish. Contact us today to request a free estimate!