HOA-Compliant Perimeter Fencing for Homes in Communities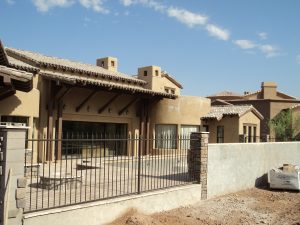 Many homes across the Valley of the Sun are located in communities run by homeowners' associations (HOAs), which impose a variety of rules designed to ensure a uniform style throughout the community. One of the elements that HOAs may regulate is the perimeter fencing that surrounds a home. If you've moved into a home located in a community with an HOA and you'd like to install perimeter fencing to secure your property, you'll want to check the applicable regulations before committing to a particular type of fence.
With over 13 years of experience designing, manufacturing, and installing wrought iron fencing for properties throughout the greater Phoenix area, the team at DCS Industries is familiar with the fencing requirements for several different communities. For example, we regularly work with homeowners in the following subdivisions:
CantaMia in Goodyear
Sun City Grand
Sun City Festival
Corte Bella in Sun City West
Victory at Verrado in Buckeye
All Trilogy communities throughout the Valley
PebbleCreek in Goodyear
And many more!
The right perimeter fencing can enhance your home in several ways: it can provide a greater sense of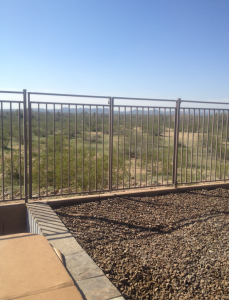 privacy, improve security by keeping pets and children safely within the confines of your property while barring unwanted visitors from entering, and it can boost your home's curb appeal. DCS Industries recommends wrought iron fencing, no matter the style of your property. With its natural durability, wrought iron offers superior security because it is difficult to damage or climb, and it will remain in sound condition for years to come—which ensures that you'll enjoy a positive return on your investment. In addition, wrought iron has a timeless elegance and can be customized to suit a variety of styles, ranging from sleek and minimalist to decorative and ornate.
If you are in need of perimeter fencing for your home, the DCS Industries team will work with you to ensure that your new fence meets your needs and style, while also complying with all applicable HOA regulations. We use premium-grade steel in all of our wrought iron products, which are made locally at our Phoenix facility. By controlling each step in the production process, we can pass savings onto our customers while maintaining the highest quality standards. Contact us today for a free estimate!