What to Know About Dumpster Gates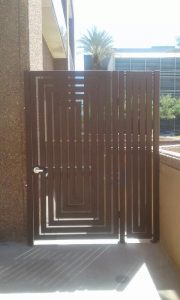 Dumpster gates can offer a great way for commercial properties, such as restaurants, hotels, office buildings, and apartment complexes, to hide unsightly waste. While trash and recycles are inevitable byproducts of any business, a full dumpster is an eyesore that can deter customers.
At DCS Industries, we believe that the right dumpster gate is the key to keeping your commercial property looking its best and your trash area secure from animals and trespassers who may rummage through your refuse. When designing a dumpster gate to protect your property, here are a few factors to consider:
1. Location
When selecting the location for your dumpster gate, be sure that it is not in the line of sight for approaching customers. You may need to consult with the landlord or owner of your property to have the location approved when installing a permanent structure.
2. Style
While your dumpster area will never be the most aesthetically pleasing element of your property, choosing the right gate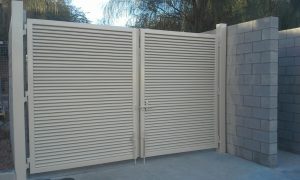 can help ensure that it seamlessly blends in with the surroundings. We can guide you in selecting a custom gate style, color, and finish that will complement your property.
3. Exposure
Over time, exposure to conditions like rain and the strong desert sun can cause some wear and tear on your dumpster gate. At DCS Industries, we take steps to prolong the lifespan of your gate, such as using the highest quality materials and components and offering the option of galvanization (the process of sealing the wrought iron with a protective zinc coating). In addition, our team can repair your dumpster gate or other wrought iron elements that have become damaged or worn down.
With more than 13 years of experience working with commercial, residential, and industrial properties throughout the greater Phoenix area, the DCS Industries team creates wrought iron products that offer optimal functionality and beautiful style. Call us today at 623-825-7700 to request a free estimate!