Create an Inviting Setting for Outdoor Dining with Wrought Iron Restaurant Patio Fencing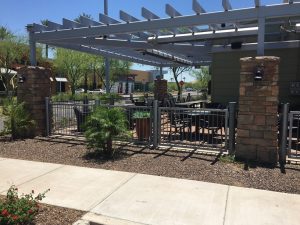 In the midst of the pandemic, most restaurants are operating at limited capacity and are practicing social distancing by seating more parties outdoors on patio environments. As this trend continues into the fall—and with the promise of more comfortable temperatures on the horizon—now is the time to get your restaurant's outdoor dining spaces primed for customers. 
At DCS Industries, we specialize in designing, manufacturing, and installing custom wrought iron fencing for residential and commercial properties. With more than 13 years of experience, we have created high-quality patio fencing for numerous restaurants throughout the Phoenix area. Our team will work with you to provide wrought iron fencing and ornamental features that suit your restaurant's distinctive style and vibe. 
As you strive to create a comfortable and memorable dining experience for your customers, consider the following benefits of wrought iron patio fencing:
Unique styles. Wrought iron is highly malleable, allowing it to be shaped to suit a wide range of styles. Whether your restaurant is sleek and modern, elegant and upscale, or anywhere in between, DCS Industries can craft fencing that reflects your vision.
Long-lasting durability. Wrought iron tends to be stronger than alternative fencing materials, such as wood or aluminum. At DCS Industries, all of our wrought iron products contain premium-grade steel and the highest quality components. We also offer the option of galvanization, which carries a ten-year warranty against rust to ensure that your new wrought iron fencing will deliver years of enjoyment and a strong return on investment.
Enhanced curb appeal. No matter which style you choose, the natural beauty of wrought iron will improve your restaurant's curb appeal, thereby enhancing the dining experience and attracting new customers.
In need of new patio fencing to help expand your restaurant's serviceable area while creating a wonderful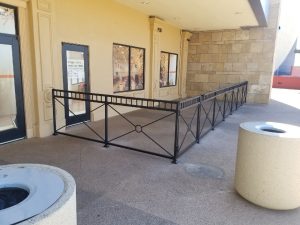 ambiance for your customers dining outdoors? Take a look at our gallery of restaurant fencing or get in touch with our team today to request a free estimate!