DCS Industries Installs Beautiful Wrought Iron Railing to Secure Upstairs Patio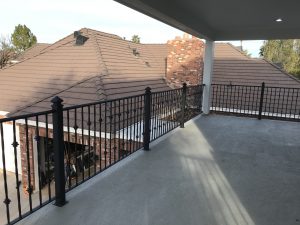 One of the best things about living in Arizona is being able to enjoy gorgeous weather throughout most of the year. In order to make the most of the warmth and sunshine, many homeowners try to maximize their outdoor living spaces, such as patios, courtyards, and balconies. While the main goal is to allow homeowners to enjoy the outdoors in comfort, safety and security are also crucial—particularly when these spaces are on the upper levels of a home. At DCS Industries, we believe that one of the best ways to secure outdoor living spaces is to enclose them with wrought iron railings or fences, which create a sturdy barrier while also adding a stylish flair to any property. 
DCS Industries recently worked with Phoenix-area homeowners who were undertaking some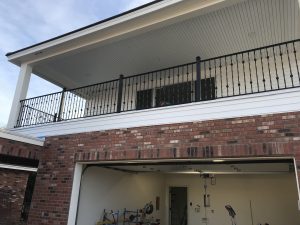 renovations on their home. As part of the renovation, the homeowners wanted a new railing to enclose a second-floor patio. After assessing the property and learning more about the homeowners' needs and style, our team designed, manufactured, and installed a beautiful black wrought iron railing for the patio. The railing features enough space between the pickets that the homeowners will be able to enjoy views of the lush landscaping surrounding their property, while still providing adequate security for children and pets. As an added benefit, the railing has a striking appearance that will enhance the home's curb appeal for years to come!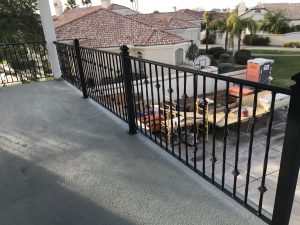 At DCS Industries, our goal is always to exceed our customers' expectations, so we were thrilled to receive the following outstanding feedback from the homeowners in this project:
"I absolutely love the patio iron work!! Love the changes that we made, and the installers were very considerate and explained everything they were doing. I appreciate their care and professionalism!!!" 
Is your property in need of a railing to enclose a patio or balcony, or any other custom wrought iron products to enhance security, privacy, and aesthetic appeal? Contact the professionals at DCS Industries today for a free estimate!