Protect Your Business with Wrought Iron Commercial Security Fencing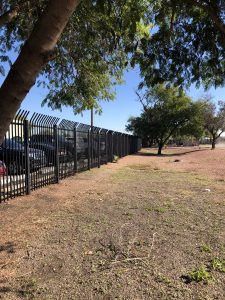 From vandalism to theft to violent crimes, commercial properties are often targeted by trespassers with malicious intentions. Therefore, it is essential for businesses of all types to make protecting their properties a top priority. One of the most effective ways to do this is with wrought iron commercial security fencing, which can easily be customized to suit different security needs and is more durable than other types of fencing materials—making wrought iron fencing a formidable barrier to wrongdoers. 
How can wrought iron commercial security fencing protect businesses?
At DCS Industries, we routinely design, manufacture, and install wrought iron security fencing for various commercial properties throughout the greater Phoenix area. We take several steps to ensure that the fencing will successfully keep intruders off the property and the business's assets and employees safe. For example, when creating our commercial security fencing, we stamp the pickets in order to form a spike at the top, which gives the fence an intimidating appearance and makes it very difficult to climb. We can leave the tops of the pickets straight, or bend them to serve as an additional deterrent to would-be trespassers. Depending on the client's budget and security needs, we can use any size of fencing material; the larger the material, the more difficult it will be for intruders to enter.
Another way we ensure that our security fencing serves as a virtually impenetrable barrier is by closely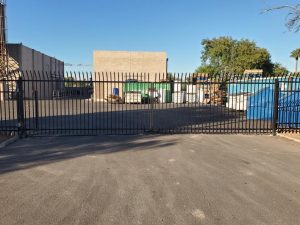 following the terrain upon installation in order to reduce gaps at the bottom of the fence. With minimal space between the fence and the ground, durable wrought iron pickets that are resistant to being damaged or climbed, and ominous-looking spikes at the top, wrought iron commercial security fencing from DCS Industries is sure to deter wrongdoers who may be tempted to enter the property. 
In addition to fencing, many properties require gates that allow authorized vehicles, pedestrians, and equipment to enter while still maintaining security. DCS Industries offers a wide variety of wrought iron gates for commercial and residential properties alike. Our rolling and swing gates are a great way to provide access control, while offering all the same security benefits as our wrought iron fencing. 
Wrought Iron Commercial Security Fencing and Gates for a Phoenix Company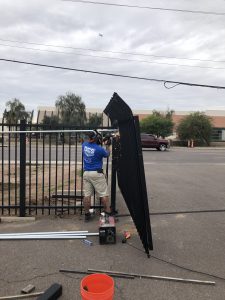 DCS Industries recently worked with a local company that needed to enhance security at its commercial/industrial property in Phoenix. After learning more about the company's needs, our team designed, manufactured, and installed sleek, black wrought iron security fencing to enclose the property. As pictured, the fencing has bent, spiked pickets that extend all the way to the ground, ensuring that it would be very difficult for intruders to enter the property by either climbing or crawling under the fence. Additionally, we installed rolling and swing gates that match the style of the fencing. With their new fencing and gates, our client can be assured that their property, employees, and valuable assets will be protected from intruders. 
Is your business safeguarded from theft, vandalism, and other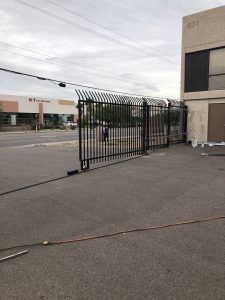 threats? With over 13 years of experience, the team at DCS Industries will work with you to provide security fencing and gates that suit your needs, style, and budget. Our products are made from premium-quality wrought iron and are powder coated to ensure a long-lasting finish that is resistant to chipping, cracking, fading, or peeling. Contact us today at 623-825-7700 to request a free estimate!