Wrought Iron Fencing: A Stylish Security Solution for Commercial Properties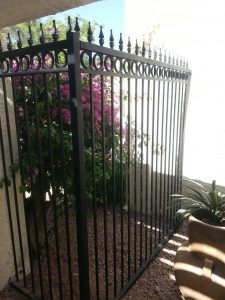 From restaurants to office buildings to apartment complexes, all commercial properties must have a way of protecting their employees, customers, and business assets. However, the need for security must be balanced with the goal of maintaining an inviting appearance for potential customers, so security fencing that has an unsightly or foreboding look is generally not the best option. Fortunately, wrought iron fencing strikes an ideal balance between security, curb appeal, and long-term value—making it an excellent investment for any business.
Is your business in need of new or improved security fencing to protect your property from theft, vandalism, and trespassing? Wrought iron fencing offers the following advantages:
Superior durability. Wrought iron is naturally stronger than alternative fencing materials, like wood or aluminum. This durability helps to make wrought iron fencing resistant to bending or breaking. In addition, it is nearly impossible to remove the pickets of a wrought iron fence, so intruders cannot enter the property by squeezing between them. Therefore, wrought iron fences—particularly when paired with wrought iron gates—serve as formidable barriers to trespassers and help businesses protect their assets, employees, and customers.
Timeless beauty. The exterior of your property is a reflection of your brand, and often provides the first impression that prospective customers have of your business. Therefore, it is important for all elements of the property to look appealing. Compared to other types of fencing materials, wrought iron has a natural elegance that has been admired for centuries across various cultures. Highly customizable, wrought iron may be painted with different colors and finishes and shaped to suit the unique style of any property.
Strong return on investment. Profitability is an ongoing priority for any business, so significant improvements to the commercial property must be considered in terms of the long-term value they are expected to deliver. Due to its natural durability, wrought iron fencing generally remains in sound condition for many years without needing to be repaired or replaced. At DCS Industries, we offer the option of galvanization, which further extends the lifespan of the wrought iron by sealing it with a protective zinc coating that safeguards against rust and other forms of deterioration—even when exposed to harsh conditions like rain and intense sunlight. Our galvanized wrought iron products carry a ten-year warranty. By choosing a high-quality, galvanized wrought iron fence for your commercial property, your business will enjoy maintenance-free security and a strong return on investment for many years.
Considering installing new fencing to protect your business? DCS Industries has been designing,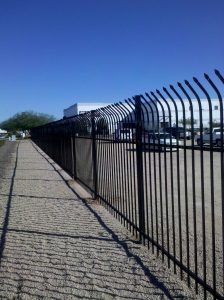 manufacturing, and installing premium-quality wrought iron fencing at commercial properties throughout the greater Phoenix area for over 13 years. Our experienced technicians will work with you to create a fencing solution that suits your needs, goals, and the style of your property. Contact us today at 623-825-7700 for a free estimate!