DIY Fence and Gate Installation—a Budget-Friendly Option for Securing Your Property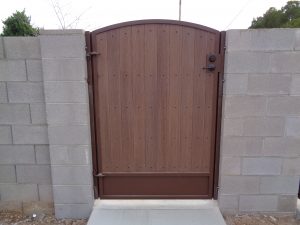 When it comes to installing fences and gates, most homeowners seek to balance style, security, and cost. At DCS Industries, we offer a vast selection of premium-quality wrought iron fences and gates that enhance privacy and security while boosting the curb appeal of any property. However, we now proudly offer another option: do-it-yourself (DIY) fence and gate installation, which is particularly great for budget-conscious owners of both residential and commercial properties, contractors, and other fencing companies.
How does it work?
As with all of our other wrought iron products, we begin by designing and fabricating the components for our DIY-installation fences and gates onsite at our Phoenix facility. We also offer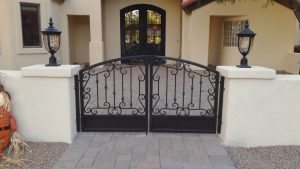 standard, double, or triple powder coating, as well as the option of galvanization. Electrostatic powder coating is an innovative method of finishing wrought iron so that it is resistant to chipping, fading, cracking, or peeling, while galvanization seals the wrought iron with a protective zinc coating to shield against rust. Our galvanized products carry a 10-year warranty, ensuring that they will stay durable and beautiful for years to come. Once we complete the manufacturing process, these components are available for purchase and DIY installation.
Customizable fences and gates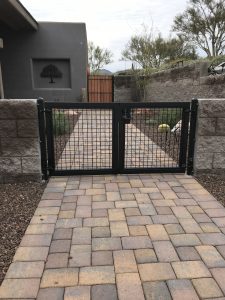 At DCS Industries, we routinely work with customers who have various needs, style preferences, budgets, and property types. Our mission is always to provide a high-quality product that is perfectly suited for each customer. Therefore, we offer the following customizable options for our customers who choose DIY installation:
Color. Our wrought iron fences and gates are available in various colors, including bronze, black, rust brown, white, and beige.

Size. Fence and gate panels are available in different sizes depending on the customer's needs.

Style. From sleek and contemporary to elegant and decorative, our wrought iron products are available in a wide variety of styles. For instance, choose between four different gate styles, ranging from our understated and budget-friendly Phoenix Series to the beautiful and ornate Deco Series.

Wood elements. Many of our gates consist of natural or composite wood slats enclosed by a wrought iron frame. Options for the wood portions include natural cedar, composite redwood, and rustic composite cedar.

Latching mechanisms for gates. Depending on the customer's security needs, gates may feature either a gravity latch or a door lever and deadbolt.
The order forms for DIY-installation fences and gates are available at the following links:
Wondering if DIY fence and gate installation is right for you? Call DCS Industries today at 623-825-7700 or visit https://dcs-ind.com/do-it-yourself-fence-and-gate-installation/ for more information!