How Wrought Iron Can Enhance a Mid-Century Modern-Style Property
Throughout the Phoenix area, "mid-century modern" is an extremely popular style for homes and businesses. Reflecting architectural and design features that were commonly used between the 1930s and 1960s, the mid-century modern style is characterized by a juxtaposition of clean lines and gentle curves, a focus on minimalism and functionality, and the use of various different types of materials. One material that can enhance any mid-century modern-style property is wrought iron.
For hundreds of years, wrought iron's elegant aesthetic and natural durability have made it a desirable choice for fences, gates, decorative elements, and other fixtures on both residential and commercial properties. One of the main advantages of wrought iron is its malleability, which allows it to be easily shaped to suit a wide variety of styles. For example, wrought iron fixtures that have been customized for a mid-century modern property may feature a sleek and simple appearance, clean lines, bold colors, and geometric patterns. 
At DCS Industries, we routinely design, manufacture, and install wrought iron fences, gates, and other elements for mid-century modern-style homes and businesses throughout the greater Phoenix area. Our goal is to create a high-quality wrought iron product that enhances the property's aesthetic, while also fulfilling the property owner's needs regarding privacy and security. Here are a few examples of our mid-century modern-style wrought iron products: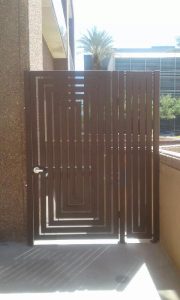 Commercial dumpster gate
All homes and businesses generate garbage, but the key to concealing unsightly trash enclosures is to install a stylish dumpster gate. DCS Industries recently created this wrought iron gate to secure a commercial property's trash enclosure. The gate has a rich brown hue and a striking geometric design, giving the property a mid-century modern flair.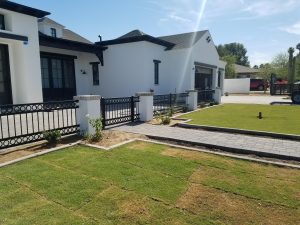 Courtyard fence
Thanks to Arizona's generally pleasant weather, spacious patios and courtyards are a popular feature of many homes in the Phoenix area. Enclosing these spaces with wrought iron fencing helps to improve security and aesthetic appeal while ensuring that pets and small children stay safely within the confines of the patio. At DCS Industries, we recently created a mid-century modern-style courtyard fence that enhances a home's curb appeal with its flawless black finish and sleek geometric patterns.
Regardless of your property's unique style, wrought iron fixtures are sure to add a touch of beauty and elegance. The team at DCS Industries is familiar with the latest design trends and will work with you to create a wrought iron fence, gate, security door, or decorative feature that suits your needs and aesthetic preferences. Contact us today at 623-825-7700 for a free estimate!