Boost Your Property's Curb Appeal with Custom Dumpster Gates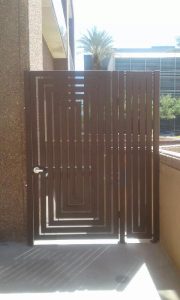 While no one likes to give it much thought, every home and business generates trash. Generally, this trash is stored in an unsightly dumpster that can detract from a property's aesthetic appeal if not concealed properly. In addition, dumpsters notoriously attract wildlife and even children or other curious foragers—thus creating a safety hazard and the risk of a mess as trash is plucked out of the dumpster and strewn around the property. Fortunately, the right dumpster gates can add a stylish flair to any trash enclosure while also deterring animals and humans.
At DCS Industries, we design, manufacture, and install custom dumpster gates for residential and commercial properties. As with any of our other products, we work closely with the property owner to ensure that the gate will accentuate the style of the property and provide optimal function. Our gates are composed of premium-grade wrought iron, which offers better durability than alternative materials—ensuring that the dumpster gate will create a formidable barrier to animals that may try to enter the trash enclosure. At the same time, we use the highest quality latching mechanisms and other components so that the enclosure may be easily accessed when it's time to drop off or pick up the garbage.
Aside from improved safety, our custom dumpster gates provide a stylish way to hide an unattractive
dumpster. In fact, wrought iron has such a naturally beautiful appearance that it can make even a trash enclosure seem elegant! Due to its malleable nature, wrought iron can be easily customized to suit any style. We also offer gates that feature an alluring blend of wrought iron and high-quality wood or composite wood. All wrought iron elements from DCS Industries carry the option of galvanization—or a protective zinc coating that shields the wrought iron from rust and other forms of deterioration—with a 10-year warranty!
Is your trash enclosure creating an eyesore on your property? Contact DCS Industries to learn how our custom dumpster gates can boost curb appeal while improving safety. Call us today at 623-825-7700 to request a free estimate!