Custom Wrought Iron Gate from DCS Industries Provides Style and Privacy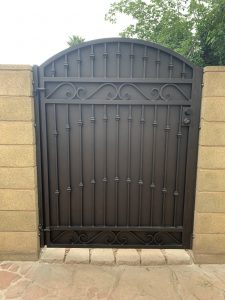 One challenge that most homeowners face is the need to ensure security while maintaining curb appeal. Fortunately, the right gates can offer the ideal solution to this challenge by providing access control along with a touch of style. At DCS Industries, we recently worked with homeowners in the Phoenix area to design, manufacture, and install a custom wrought iron gate that offers excellent privacy and security while adding an elegant flair to the cinder block wall in which it is situated.
As with all other wrought iron products from DCS Industries, this wrought iron gate was made using premium-grade steel and high-quality components for long-lasting durability. With a solid appearance and no gaps, the gate ensures that passersby cannot see into the property. Additionally, it enhances security by creating a formidable barrier that keeps children and pets safely within the boundaries of the property—and intruders out. A lock and latching mechanisms further boost security. 
At DCS Industries, our gates range in style from simple and functional to ornate and decorative. With its rich color and elegant scrolls, this custom wrought iron gate has a decidedly decorative appearance that is sure to enhance the property's curb appeal. Many of our other gate options contain alluring composite wood enclosed by sleek wrought iron frames. In addition to entry gates, we also provide dumpster gates and rolling/automated gates that allow for the passage of vehicles. All of our gates may be customized with a variety of colors, aesthetics, and latching mechanisms. Whether we are creating gates for residential or commercial properties, we work closely with each client to ensure that the finished product suits their unique needs and style. Upon installation, our experienced technicians will verify that the gate is functioning properly and looks beautiful.
In need of a gate to boost privacy, security, and curb appeal on your property? DCS Industries has been designing, manufacturing, and installing wrought iron gates, as well as fences and security doors, throughout the greater Phoenix area for over a decade. Contact us today at 623-825-7700 for a free estimate!