DCS Industries Installs Custom Wrought Iron Gates at Scottsdale Home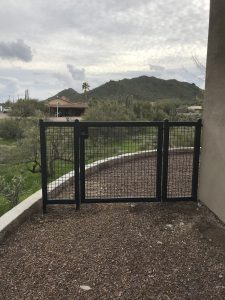 Many homeowners who are lucky enough to have beautiful scenery surrounding their properties strive to balance preservation of views with security and curb appeal. DCS Industries recently worked with homeowners in the North Scottsdale area who enjoy gorgeous mountain vistas from their property. While they did not want to install any fixtures that would detract from these views, they wanted to enhance security on the property with a driveway gate, side yard gate, and courtyard gate. 
After assessing the homeowners' needs and preferences, the DCS Industries team designed, manufactured, and installed custom wrought iron gates made from welded wire fence panels, which are currently very popular among residential and commercial property owners alike. These gates have a sleek appearance that boosts the property's curb appeal and matches the home's modern desert aesthetic. At the same time, they are unobtrusive, allowing virtually uninterrupted views of the surrounding scenery. Since the gates were installed on the driveway and at the entrances to the home's courtyard and side yard, they will help to keep pets and small children safely within the confines of the property—while still providing a welcoming point of entry for guests. 
As with all other products from DCS Industries, these gates were handcrafted using the highest quality materials, including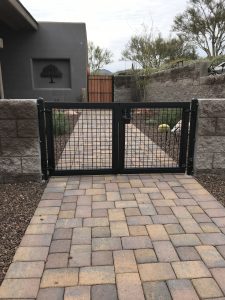 premium-grade steel and durable components. This will ensure that even as the gates are exposed to intense sun, rain, and other elements, they will remain in excellent condition for years to come and deliver a strong return on investment for the homeowners. 
At DCS Industries, one of our specialties is creating gates for residential, commercial, and industrial properties. We offer several series of gates, ranging from simple and budget-friendly options in the Phoenix Series to the opulent gates of the Deco Series, which feature richly hued composite word and decorative wrought iron scrolls. In addition, our customers may choose custom gate options to reflect their unique styles and preferences. We work closely with each customer to deliver the best option and long-lasting value.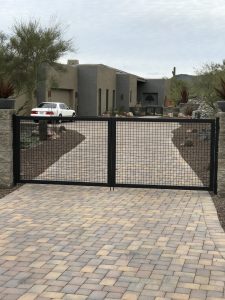 Seeking to secure your property with stylish, high-quality gates? Contact DCS Industries today at 623-825-7700 to request a free quote!