Wrought Iron Fencing from DCS Industries Enhances a Restaurant's Patio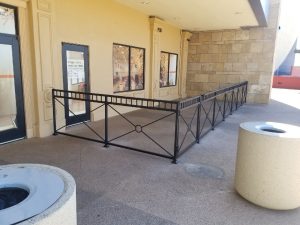 Like many other restaurants in the Phoenix area, the owners of the newly opened Beale Street Bar and Grill chose to install a patio where patrons could enjoy some fresh air while dining. To ensure that the patio had a stylish appearance and would enhance the restaurant's ambience, the owners consulted the professionals at DCS Industries to provide wrought iron restaurant patio fencing to enclose the small outdoor space.
After conferring with the owners and managers of Beale Street Bar and Grill to determine their needs and goals for the restaurant's patio, the DCS Industries team designed, manufactured, and installed black wrought iron patio fencing. The fencing has a sleek appearance and an eye-catching design, which will enhance the restaurant's curb appeal without distracting from diners' views of the surrounding area. Furthermore, the fencing will provide Beale Street Bar and Grill with an additional seating area that allows patrons to enjoy the pleasant Arizona weather while still feeling encompassed by the restaurant's ambience.
At DCS Industries, we have provided wrought iron patio fencing for countless restaurants—as well as other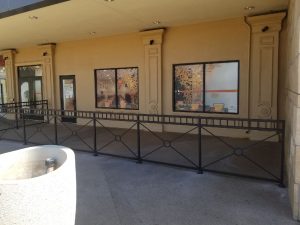 commercial and residential properties—throughout the greater Phoenix area. Wrought iron offers several advantages as compared to other types of fencing materials. For example, wrought iron is malleable, enabling it to be shaped to suit any property's unique style. At the same time, wrought iron is highly durable, which helps it remain in great condition even when faced with strong sun, rain, residue from restaurant misting systems, and other elements. 
To further extend the lifespan of our wrought iron products, DCS Industries offers the option of galvanization, which refers to a protective zinc coating applied to the wrought iron. Our galvanized products carry a ten-year warranty against rust and other forms of deterioration. Galvanization ensures that wrought iron fencing and gates will yield a strong return on investment—a constant consideration for any business owner! 
Does your restaurant have an outdoor patio? Strong and stylish wrought iron fencing can boost curb appeal while elevating the dining experience for your customers. Contact DCS Industries today at 623-825-7700 to request a free estimate!