DCS Industries Provides Enhanced Security Fencing for a Commercial Building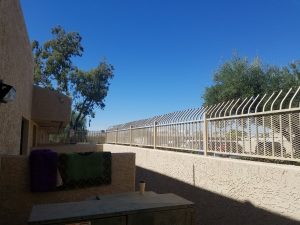 A commercial building in the Phoenix area required heightened security measures in order to safeguard the property and its assets while keeping employees and customers safe. In search of a solution that would achieve these goals while matching the style of the property, the building's owners consulted DCS Industries for assistance with installing the right combination of security fences and gates. 
Our team began the process of securing the building by designing, manufacturing, and installing wrought iron fencing and gates. On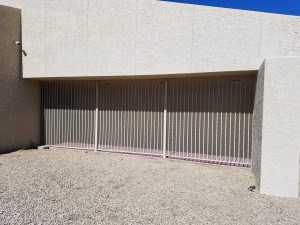 its own, wrought iron is highly durable, which makes it resistant to being broken, bent, or otherwise damaged. Therefore, wrought iron is always a great choice for fences and gates designed to keep a property safe from exterior threats. Due to the building's special security needs, however, DCS Industries installed additional measures to help prevent unauthorized entry. Specifically, we added curved pickets to the top of some of the fencing, giving it an intimidating appearance and making it virtually impossible to climb. We also installed expanded metal in various sections of the wrought iron fencing and gates. Although expanded metal has a mesh-like appearance, it offers superior strength and security. Due to its durability and minimal openings, the expanded metal helps make the building nearly impervious to trespassers.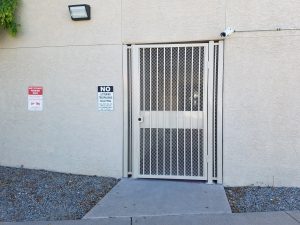 In addition to offering reliable security, wrought iron's strength also makes it a cost-effective option for any property owner. Wrought iron fences, gates, and other fixtures are capable of enduring wear and tear for several years before they need to be repaired or replaced. At DCS Industries, all of our wrought iron products carry the option of galvanization, which further extends the product's lifespan by sealing the wrought iron with a protective zinc coating. Our galvanized products feature a ten-year warranty. 
With its formidable strength and naturally stylish appearance, wrought iron fences and gates are an excellent addition to any property. At DCS Industries, we work closely with each customer to understand your needs and develop a custom wrought iron fencing solution—whether your goal is secure your property against outside threats or simply to boost curb appeal. Contact us today at 623-825-7700 to request a free estimate!