Accentuate the Beauty of Your Home with Decorative Wrought Iron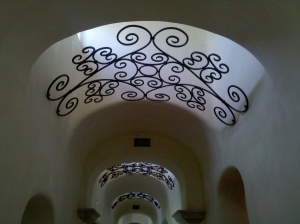 With its natural elegance, wrought iron is beautiful in any context. When used in fences, gates, or screen doors, wrought iron offers a stately appearance—as well as greater security and durability—than alternative materials. However, wrought iron is also highly malleable, enabling it to be shaped into a wide variety of unique designs to complement the style of any property. For example, decorative wrought iron may be used in interior and exterior railings, arches, trellises, partitions between rooms, and statement pieces. 
At DCS Industries, we design, manufacture, and install custom, decorative wrought iron pieces to enhance the look of our customers' homes. We can craft unique works in a vast array of styles, ranging from sleek and contemporary to elaborate and ornate with elegant scrolls and arches. Regardless of the specific style, decorative wrought iron is sure to add a sense of timeless beauty to any room. 
As with all of our products, our decorative wrought iron is composed of premium-grade steel and
accessories. Each piece of steel is inspected by our experienced fabricators to ensure that it meets our high standards, and then cut to size per order. We use pre-fabricated jigs to maintain quality throughout the manufacturing process. In addition, all of our wrought iron products carry the option of galvanization, which refers to the process of adding a zinc coating to the iron in order to safeguard against rust and deterioration. Our galvanized wrought iron comes with a ten-year warranty, ensuring that it will yield maximum enjoyment and return on investment for many years. 
When creating decorative wrought iron works, the team at DCS Industries strives to reflect each customer's vision and lifestyle. Because we control each step in the production process, we are able to ensure quality and pass savings on to our customers. Would you like to enhance the beauty of your home with a custom, high-quality piece of decorative wrought iron? Call us today at 623-825-7700 or contact us online to request a free estimate!