Wrought Iron Courtyard Fencing Accentuates a Home's Sleek Style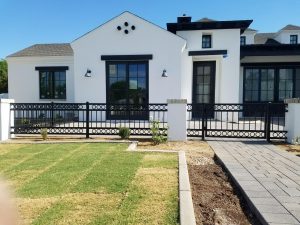 In order to make the most of Arizona's beautiful weather, many homeowners in the Phoenix area try to create several different outdoor living spaces on their properties. One popular option is a courtyard in the front of the home, which may serve as a seating area while also enhancing the home's stately appearance. As with any other enclosed space, choosing the right fencing for a courtyard is essential to maximizing its functionality and aesthetic appeal. 
DCS Industries recently worked with homeowners in Phoenix who had built a courtyard in the front of their home. Our team designed, manufactured, and installed wrought iron fencing to enclose the courtyard. The home, which is painted a crisp white color with neat black trim, has an alluring contemporary style. To match this look, we created a sleek fence and gate with unique geometric designs and a flawless black finish. This new courtyard fencing perfectly matches the home's eye-catching modern style and contributes to the property's overall grandeur. In addition to the beauty it adds to the property, the courtyard fencing also improves safety by creating a barrier to keep pets or small children from wandering out of the courtyard. 
When manufacturing courtyard fences and all of our other wrought iron products, DCS Industries uses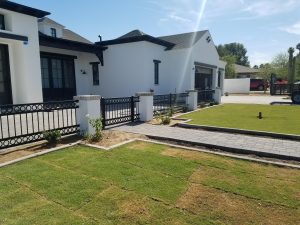 premium-grade steel, which is then cut to size depending on the unique needs of the project. We weld each piece of steel using pre-fabricated jigs to ensure quality. We can then configure the steel into various shapes and styles, resulting in custom wrought iron products that reflect the distinct look of the properties on which they are installed. Our products are also available in a wide variety of colors and finishes. 
Wrought iron has long been a preferred material for fences and gates because it is more durable than wood, aluminum, or other commonly used materials. At DCS Industries, we offer the option of galvanization—or the process of sealing the wrought iron with a protective zinc coating as a way to safeguard against rust—for all of our wrought iron products. Galvanized products come with a ten-year warranty, assuring our customers that they will reap a positive return on investment for years to come. 
Are you in need of a stylish fence for your home? The DCS Industries team is eager to work with you to develop a wrought iron fencing solution that fulfills your needs. Call us today at 623-825-7700 or contact us online to request a free estimate!