The Phoenix Series Gates: Security and Privacy at a Budget-Friendly Price
For both residential and commercial properties, gates provide an effective way to enhance security and privacy. In order to accommodate the unique needs and budgets of different property owners, DCS Industries offers several series of gates, ranging from simple and affordable to ornate and luxurious. The Phoenix Series are on the simpler and most budget-friendly end of the spectrum, while reliably fulfilling the goals of greater security and privacy.
Gates in the Phoenix Series are primarily composed of wood slats, which create a seamless barrier that shields the enclosed area from the outside world. The wood slats in these gates may be made from unfinished cedar, unfinished redwood, or composite wood. The composite wood option is popular because it features a 20-year warranty from the manufacturer and is very low maintenance, never requiring painting or refinishing.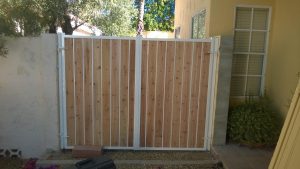 The wood portions of Phoenix Gates are surrounded by a powder-coated, wrought iron frame. As with all wrought iron products from DCS Industries, the frames are made using only premium-grade steel for long-lasting quality. The frames may be galvanized—or sealed with a protective zinc coating—to further prolong their durability and safeguard against rust, chipping, and other types of deterioration. All galvanized products from DCS Industries carry a 10-year warranty.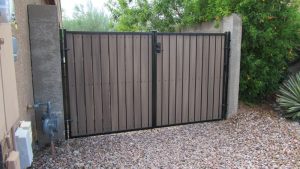 Although these highly functional gates have a simple style, they may be customized to fulfill the needs and accentuate the appearance of any property. For example, they are available in a variety of colors and finishes, enabling them to match the style of the fences and buildings that surround them. They also may be manufactured to suit different size requirements, making them ideal for securing backyards, side yards, trash enclosures, or patios. Customers may even select different latching mechanisms, including standard gravity latches, door levers, and deadbolts. With their high-quality features and customizable options, Phoenix Gates are an excellent addition to any residential or commercial property.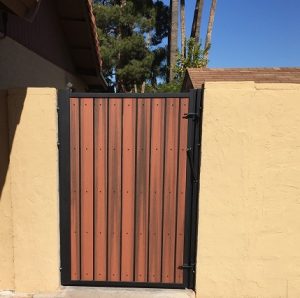 At DCS Industries, all of our gates are custom designed with the needs and lifestyle of each individual customer in mind. With over a decade of experience in creating fencing and gate solutions for commercial, residential, and industrial properties, we focus on using the highest quality components and delivering products that exceed our customers' expectations. Call us today at 623-825-7700 for more information on our different series of gates or to request a free estimate!