Front Entry Gates from DCS Industries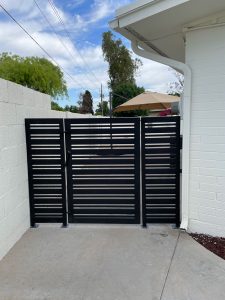 Front entry gates provide an effective way to enhance your home's curb appeal, privacy, and security. To help achieve these goals, DCS Industries offers gates in a wide variety of styles, in addition to our premium-quality wrought iron fencing options. One of our more recent projects involved designing, manufacturing, and installing the front entry gate pictured for a customer. With a sleek horizontal slatted design, this wrought iron gate brings enhanced protection and privacy to the home, as well as a contemporary and stylish look.
All of our gates come with a powder-coated frame and gravity latch, but we give you the option to tailor these aspects to your particular needs and preferences. Our other popular gate styles range from the budget-friendly Phoenix Series to the elegant Deco Series to trendy iron gates with a sheet metal backing. We also offer dumpster gates for commercial properties, as well as rolling and automated gates.
Fencing and gate options from DCS Industries are constructed from top-grade materials, and custom built and manufactured locally. Because we oversee every part of the manufacturing process, we are able to provide our customers with industry-leading durability at a more affordable price than our competitors. In an industry where many companies have to outsource or compromise on quality control, you can have the peace of mind when purchasing products from DCS Industries that you will have an affordable, durable and stylish fence or gate for years to come.
Looking for a beautiful and functional way to secure your home? Look no further than one of our front entry gates. Contact us today for a free estimate!