Installing Fencing on Challenging Terrain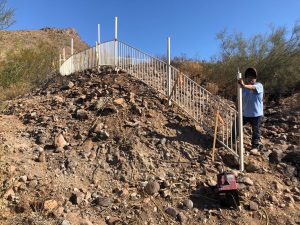 As beautiful as it is, the Arizona desert contains plenty of rocky, mountainous terrain that can make construction difficult. While working with the landscape can be particularly challenging when it comes to installing new fencing, the DCS Industries team has the expertise needed for any job. With more than 13 years of experience designing, manufacturing, and installing wrought iron fences and gates for properties across the greater Phoenix area, we are skilled at navigating the challenges presented by the Sonoran Desert. For example, our technicians can handle the following common obstacles:
Boulders and rocky terrain. If your property contains lots of boulders and/or rocky terrain, it may seem that installing a fence could be difficult or even impossible—but there's no need to worry when you work with DCS Industries! Our team will survey the landscape and perform the planning and heavy lifting needed for a successful fence installation.
Sharp slopes. Many properties in the Phoenix area are located on mountainsides, which can present the challenge of steep, sharp slopes and uneven terrain. We will design your new fencing so that it hugs the contours of the earth, resulting in a sturdy structure and a seamless, beautiful appearance.
Dense desert vegetation. Anyone familiar with the Arizona desert knows that it is full of cacti and other dense, prickly plants. At DCS Industries, we are adept at carefully working around this foliage, clearing out only what is needed to install your fencing.
In addition to navigating the desert terrain upon installation, we create all of our wrought iron products to withstand Arizona's intense heat and sunshine for years to come. We use premium-grade steel and the highest quality components, and offer the option of galvanization—or the process of sealing the wrought iron with a protective zinc coating—for further protection against the elements. All of our galvanized wrought iron products carry a ten-year warranty.
Regardless of the types of terrain on your property, the DCS Industries team is up to the challenge! Call us today at 623-825-7700 or visit https://dcs-ind.com/free-estimates/ for a free estimate on new fencing, gates, and other wrought iron products.