Wrought Iron Security Fencing for Commercial Properties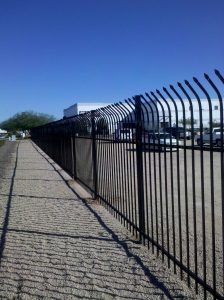 Security is a key concern for any business. From protecting valuable assets to keeping employees and customers safe, it is important for businesses to have proper security fencing and other measures designed to deter trespassers. At DCS Industries, we have years of experience designing, manufacturing, and installing wrought iron fencing for commercial properties of all types. Our skilled team will work with your business to create security fencing that will help protect your assets while enhancing your commercial property's aesthetic appeal.
From security fencing to commercial gates, DCS Industries is proud to offer the following benefits with each of our projects:
Personalization
When creating our wrought iron fences and gates, we offer options such as customized curving, powder coating and electrostatic painting to give you the highest quality finish for your commercial property. This helps present a professional aesthetic while enhancing your property's charm. With multiple options for finishes—including single coating, double-powder coating and galvanized powder coating—we will work with you to find the right solution that matches your needs. 
Quality Work
Wrought iron combines security, resiliency, and durability and is a great way to enhance the aesthetics of your commercial property. By using premium-grade steel and the highest-quality components, DCS Industries delivers wrought iron products that will stay in excellent condition for years to come.
Security Features
The beautiful thing about wrought iron is that it is customizable to each unique property. We will work with you to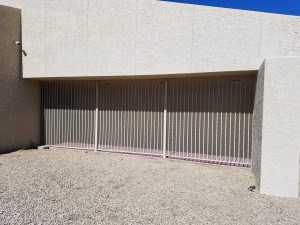 determine the right color, style, and any add-on security features for your commercial fencing and gates. Whatever your property requires, our team can help execute your vision.
Repair and Refinish
Beyond designing, manufacturing and installing custom wrought iron projects, we can also restore rusted fences and gates to a like-new condition with our wrought iron repair and refinishing services.
If you want to learn more about options for securing your commercial property with wrought iron fences and gates, please reach out to our team today to request a free estimate. We're happy to answer any questions and discuss your needs!