Let the Spring Air into Your Home with a Stylish Decorative Security Door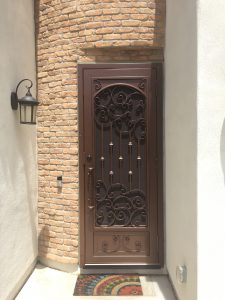 Spring has finally arrived in the desert, bringing delightfully warm daytime temperatures and refreshingly cool evenings. If you, like many other Arizona residents, would like to let the fresh air into your home—while also keeping kids and pets safely inside and unwanted visitors out—a decorative security door from DCS Industries may provide the ideal solution!
Wrought iron security screen doors from DCS Industries demonstrate that security and beauty are not mutually exclusive. While wrought iron in any style has a naturally elegant aesthetic that is sure to boost curb appeal, we allow homeowners to choose the look that best complements their property with our customizable options. We offer security screen doors in a wide variety of styles, ranging from sleek and understated to elegant and ornate to fun and thematic, with creative Southwestern motifs. Our doors are also available in several different colors, and even the deadbolts and levers may be customized with various finishes such as brushed nickel, oil-rubbed bronze and antique brass. Customers have the option of adding sunscreens, which are also available in different colors and offer protection from the elements by blocking an estimated 80-90 percent of the sun's rays.
While decorative security doors from DCS Industries are a striking addition to any property, we also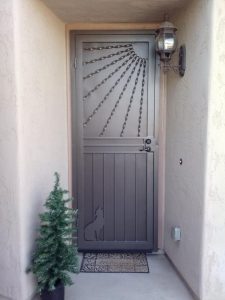 ensure that they reliably fulfill their primary purpose of enhancing security. In addition to its natural beauty, wrought iron tends to offer greater durability than other types of materials. Our wrought iron products are particularly strong because they are manufactured using only premium-grade, 16-gauge steel and installed by our experienced team. As with all of our other wrought iron products, our decorative security doors carry the option of galvanization, which further enhances durability by sealing the wrought iron with a protective zinc coating. Galvanized wrought iron from DCS Industries features a 10-year warranty—thereby maximizing your return on investment and ensuring that you will enjoy a sturdy, beautiful security door for years to come!
Looking to bring the outdoors into your home this spring? The DCS Industries team will help you find a high-quality wrought iron decorative security door that accentuates the style of your home and complies with any applicable HOA regulations. Contact us today at 623-825-7700 to request a free estimate!