Balancing Style and Safety with Residential Gates and Security Doors
As the saying goes, "a person's home is their castle." With this philosophy in mind, most homeowners seek to maximize privacy and security by creating barriers between their houses and the world outside. On residential properties, however, curb appeal is also a key consideration, so any fences, gates, or doors must complement the property's style and be visually appealing for neighbors and passersby. Here's how we balance style and safety with residential gates and security doors.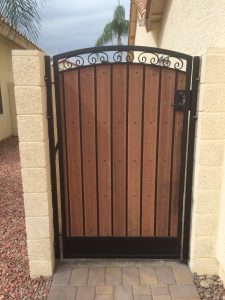 Residential Gates
At DCS Industries, we specialize in designing, manufacturing, and installing barriers that help homeowners achieve an ideal balance of safety, privacy, and aesthetic appeal. We offer different types of gates to serve as entryways onto a property or various sections of it. For example, we can create automated gates to secure a driveway while allowing the convenient (and authorized) passage of vehicles—including RVs and other large objects.
We also offer several different "series" of gates that may be used to enclose courtyards, side yards, or backyards. These gates are available in a variety of styles, at price points that can accommodate any budget. For example, our Phoenix Series is the simplest and least expensive option, while the Deco Series is the priciest and most elaborate. Gates in the Phoenix Series typically consist of unfinished cedar, redwood, or low-maintenance composite wood slats surrounded by a high-quality wrought iron frame. These gates are functional yet attractive and may be customized with different finishes and latching mechanisms.
On the other hand, gates in the Deco Series are made from premium-grade, richly hued composite wood, adorned with decorative wrought iron arches and scrolls. Deco Series gates are certainly eye-catching, while still fulfilling their primary function of keeping the property safe and private. DCS Industries also offers various choices for residential gates with styles that fall between the simplicity of the Phoenix Series and the elegance of the Deco Series.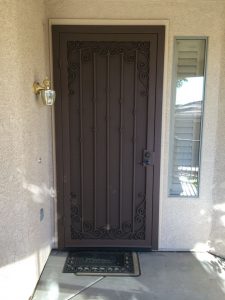 Decorative Security Doors 
Residents of the Phoenix area are fortunate to enjoy moderate temperatures for several months of the year. Therefore, many people like to leave their doors and windows open—particularly during the spring and fall—in order to bring fresh air into their homes. However, security is always a primary concern. Decorative wrought iron security doors unite style, function, and protection, enabling homeowners to safely leave their front doors open. The security door allows for a pleasant air flow, while the sturdy wrought iron keeps intruders out and small children and pets inside.
As an added benefit, decorative security doors from DCS Industries are available in a variety of colors and styles that are sure to enhance the curb appeal of any home. Options range from simple and sleek to elaborate and thematic, such as those featuring beautiful Southwestern images. Our security doors may be further customized with different finishes on the handles and deadbolts, including antique brass, brushed nickel, and oil-rubbed bronze.
All wrought iron products from DCS Industries are professionally crafted using premium-quality steel. We offer the option of galvanization, which seals the wrought iron with a protective zinc coating to ward off rust and extend the life of the product, providing an excellent return on investment for our customers. When installing gates or security doors on residential properties, we ensure that they comply with all applicable HOA or community restrictions and accentuate the style of the home. Contact DCS Industries today at 623-825-7700 for a free estimate on a stylish gate or security door for your property!